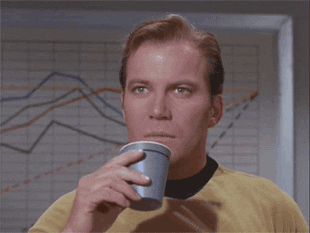 Change is certainly life's only constant. And even though, historically, change has been relatively slow to take effect among Canadian online brokerages, when it does show up, the effects tend to endure. As we steer into the season of change, it seems like both the pace and breadth of change are starting to accelerate, with some remarkable developments.
In this (we'll call it "toddler time-distorted") edition of the Roundup, we look at an unusual pattern emerging in the deals and promotions activity at Canadian online brokerages and what it could signal for promotions going forward. Next, we highlight a new look that one online brokerage is sporting for spring, and whether it is dressed in what the cool kids are into these days. Finally, we'll wrap up with some timely topics self-directed investors are chatting about online.
It's Reining in Deals
And now for something completely different. At least from this month's deals and promotions activity.
Usually around the start of each month we go through the latest deals and promotions to see what new offers have shown up and whether there are any interesting developments in the ongoing race to garner attention (and assets) from self-directed investors. This month, however, there was a signal of continued unusual activity among the Canadian online brokers that suggests there are some interesting changes coming to the way in which online brokerages create and launch promotions.
Of course, "change" is a relative term, so, before diving into what seems to be evolving with online brokerage deals and promotions, it's useful to get a sense of what is "typical."
Although many online investors now know that Canadian online brokerages offer deals and promotions, especially during RRSP season, that hasn't always been the case. There was a time many years ago that most Canadian online brokerages were reluctant to use promotions and incentives to attract in new self-directed investors. Interestingly, as commission prices began to drop in a meaningful way, roughly around 2014, so too, it seemed did the resistance to trying out using offers to encourage new users to try out a brokerage.
At that time, one of the most active Canadian online brokerages when it came to special offers or promotions was Questrade – who aside from much lower commission prices than their peers – was a constant name to watch because they ran so many promotional offers. The kinds of promotions they ran ranged from various commission-free trade offers to promotions featuring a free iPad.
It was not long after other online brokerages lowered their commission prices, that one of the first big shifts in the deals and promotions activity took place: Questrade stopped offering so many promotions.
Instead of offering so many different promotions, Questrade decided to consolidate their offers and focus their promotional offers on their affiliate program and referral bonuses (and later launching TV ads). Many of the same promotions, such as their five free trades or first month free, are still available today. Regardless of the season – including RRSP season – Questrade's strategy was still the same when it came to promotions. Namely, stick to their core offers.
It's difficult to characterize just how significant of a shift that was at the time; however, by the time Questrade did ramp down, other online brokerages, notably BMO InvestorLine, had picked up the practice of regular promotions outside of RRSP season. In fact, since that time, BMO InvestorLine has effectively carried the torch for launching "new promotions" just about every season.
So, if there was one online brokerage in Canada that we did not expect to see a break in promotional cadence, it was BMO InvestorLine. And yet, this month that is exactly what's taken place.
To be fair, BMO InvestorLine hitting pause on deals is not without precedent. That said, the last time they did so was near the start of the pandemic, when BMO InvestorLine's unprecedented investor interest overwhelmed systems.
This time, however, there isn't a rush of investors flooding the systems of BMO InvestorLine with new applicants, which begs the question, what would cause BMO InvestorLine to pause offering an already live tiered cash back promotion at a time when major rivals still have open offers?
It's difficult to know exactly why, however, it seems that shuttering an active deal is likely the result of something abrupt instead of something planned, especially given the timing being so close to the launch of their latest cash back promotion.
Perhaps the economics of a tiered cash back offer simply don't work for BMO InvestorLine, or perhaps the costs of running a campaign to acquire new clients exceeded the benefit those clients would bring. The latter point is one of the drivers behind online brokerages typically choosing to launch promotions during RRSP season instead of during the whole year. When online investors are "in market" for a new online brokerage or seeking to park new assets in an account, as is the case during RRSP season, online brokerages want to be as visible as possible.
That said, instead of stopping promotions outside of RRSP season, one of the strategies BMO InvestorLine has employed in the past was to raise the deposit threshold at which an individual investor could qualify for a promotion. Thus, instead of requiring a minimum deposit of $15,000, BMO InvestorLine could raise the minimum deposit to $50,000 so that only those individuals who bring the kind of value BMO is seeking qualify for incentives.
So, though speculative, if costs of a program suddenly get put under the microscope to the point that they lead to a decision to cut loose a promotion in midstream, then a good candidate reason why would be a "cost cutting" program. And for that to take place at BMO InvestorLine, a bank-owned brokerage, that is very interesting timing indeed. If, after all of the years of running this program, something fundamentally has changed (or is about to) for promotions-led acquisition, it does beg the question as to what BMO is encountering now that makes the math for promotions untenable at this time.
Though the online promotion of the deal is now gone, self-directed investors interested in the cash back promotion at BMO InvestorLine may be able to access the offer via customer service touch points (e.g. in branch) on a case by case basis. When a client is of sufficiently high value (what that value is, we don't yet know), then they might be offered a cash back incentive.
The latest move by BMO InvestorLine to shutter an active offer is a step change for an online brokerage that has almost consistently leaned into "always on" promotions and bears a resemblance to the structural shift in promotional strategy that Questrade undertook many years ago. Unlike that decision, however, BMO InvestorLine does not have the same magnitude of affiliate channels nor social media community support that Questrade had when it decided to shift its promotions strategy.
Instead of being a leader among Canadian bank-owned online brokerages when it comes to promotional activity, it seems BMO InvestorLine is more content to run with the pack. With no other big bank-owned online brokerages currently offering cash back promotions right now, all attention for self-directed investors looking for a cash back deal on a new trading account is being directed to Qtrade Direct Investing.
The bigger consequence to bowing out of the post RRSP season promotions race may not be felt for some time but will almost certainly resurface again next RRSP season. One of the biggest benefits of an always on campaign is to continuously attract attention of investors and to be among the list of names those investors consider when the need for a solution arises. In this case, BMO stepping back simply opens the door to another lesser known or not historically active name to fill that void.
An alternate view is that online brokers may also be more willing to be agile when it comes to promotional activity. A case in point is the current cash back promotion from Qtrade Direct Investing.
Qtrade did something highly unusual at the beginning of this year by revising upward the amount they were willing to offer to new clients. They did not "set it and forget it" with the deal that launched last year but rather saw that their offer was not nearly as competitive as their peers and adjusted accordingly.
The fact that BMO InvestorLine was the only big bank-owned online brokerage in market with a cash back promotion perhaps made them realize they were overspending to acquire new clients. That they were willing to do so mid-campaign is maybe a sign of different kind of structural change: online brokerages are becoming nimbler.
This year alone we've seen Qtrade Direct Investing change deal amounts, BMO InvestorLine effectively shut down an already live deal, and RBC Direct Investing move around the expiry date on an unprecedented commission-free trade offer. If there was ever a case for expecting the unexpected, Canadian online brokerages seem to have made it their theme for 2022.
CI Direct Trading Sporting a New Look
Spring seems like the opportune moment for new beginnings. This month, CI Direct Trading, the brand formerly known as Virtual Brokers, officially rolled out their new public-facing website. Gone is the familiar combination of red, black and white, and instead, the new website reflects the last stage in the integration of Virtual Brokers with the CI Financial common look and feel.
While a "new" website isn't necessarily a big step change, building a new online brokerage website in an ultra-competitive environment does present an opportunity to intentionally lean into the brand identity. Secondarily, for seasoned observers, it offers a glimpse into where the priorities are for a particular provider.
In the case of the new CI Direct Trading website, there are a number of interesting observations to comment on; however, the biggest theme that jumps out is integration.
Unlike Virtual Brokers, which was effectively a standalone online brokerage, CI Direct Trading's new site was intended to fold the online brokerage into the CI Financial ecosystem. And, at first blush, it appears they've done so – perhaps too well.
In fact, in the drive to create a common look and feel between brands, the point at which CI Direct Trading starts and where CI Direct Investing stops is very blurry.
Navigating between the CI Direct Investing and CI Direct Trading is so seamless that as a user, you wouldn't know where you are unless you look at the logo on the page, and even then, you'd have to really pay attention to the small text under the word "direct" in the logo. Recall that one of the principles of user-centred design is to answer a simple question: am I in the right place? On the new CI Direct Trading website, the answer for DIY investors in particular is unclear.
On a more nuanced note, the decision to use the names "CI Direct Investing" and "CI Direct Trading" is confusing because almost no other online brokerage in Canada uses the term "Direct Trading" in their names. Three big names in the "Direct Investing" space jump out, for example:
Qtrade Direct Investing
RBC Direct Investing
TD Direct Investing
Virtual Brokers used to be a direct competitor to these particular providers; however, CI Direct Investing (rather than Direct Trading) seems like it would be the place where a user would look to find a service similar to Qtrade Direct Investing, TD Direct Investing or RBC Direct Investing. Except, they would be incorrect. CI Direct Investing is more akin to a roboadvisor solution, not a DIY one.
Although it seems like semantics, in reality, the "DIY investor" industry has been undergoing its own identity crisis for the past decade. Ten years ago, the entire space was almost uniformly calling themselves "discount brokerages," then it shifted to "online brokerages," and now they are positioning themselves as "direct investing" solutions providers.
Why this matters so much is because when it comes to being found online, something that is exceptionally important in a hypercompetitive environment, individual investors are going to search based on what they know and think is the term they need to use in order to access the category of service providers. When the category shifts, so too does the audience searching for it.
Another interesting theme is that the new website leans heavily into the "less is more" look. There are fewer options and less text as well as clear headings so that there is less information to have to parse through on the front page. From a visual perspective, there is also a heavy presence of mobile screens, a decision that undoubtedly is intended to relate to a generation of "mobile first" traders.
In a tinge of irony, the screenshots of the CI Direct Trading iPhone app show the symbol of a well-known Canadian bank (TD) instead of using the opportunity to have the publicly-traded CI Financial ticker (CIX) on there.
Even in the app store, the Virtual Brokers legacy association is still visible too, a reminder that all brand touch points need to be considered in the rebrand process. Of greater consequence, however, is that the legacy star ratings for the app experience are likely to impact user impressions on the brand. With a 2.5 star rating on the Apple App Store for CI Direct Trading, there is much work to be done to improve the perception of the mobile app as being an enjoyable way to engage with the service, especially with the mobile-first crowd.
When Virtual Brokers was acquired by CI Financial in 2017, it was unclear what direction the popular online brokerage would go in. Fast forward to today, it is now clearer that the successor to VB, CI Direct Trading is offering many of the same features and pricing as Virtual Brokers but is wrapping itself into the CI Financial ecosystem.
It has been a relatively quiet four years since the integration was first announced but now it seems the real work will begin for CI Direct Trading to be able to tell its story to online investors (traders?) and establish its niche in a very crowded field.
If the new design is a signal they're looking to court a younger generation of investors, simplifying the website is a step in the right direction. Clearly, though, there is much work to be done in the seasons ahead to evoke the same kind of emotion, curiosity, and enthusiasm that their direct competitors have already managed to successfully achieve.
From the Forums
Transferrable Skills
Moving day is always a chore. When it comes to moving mutual funds, however, it's a problem that needs more than pizza to solve. One reddit user reaches out to the community of investors in this post for some guidance on how to navigate transferring away from Manulife and into a popular online broker.
Under the Influencer
A big theme among online brokerages heading into this year has been investor education. An interesting discussion emerged in this reddit post about seeking out "education" on investing and trading from a relatively well-known Canadian personal finance influencer.
Into the Close
That's a wrap on another edition of the Roundup. If news among the online brokerage space is anything like the weather in April, it's going to be a mixed bag of activity throughout the month. For the loyal readers that have managed to make it this far, we're also going to be sharing more updates in the weeks ahead on the new special SparxTrading Pro and other tools we've been working on, so be sure to tune in for sunnier news coming around the corner. Until then, keep your powder and yourselves dry, you never know what might come up as an interesting buy.